Afternoon Live Ranger Chat with Ranger Mike & Ranger Roy with Tim from HD on Tap who rescued the BearCams.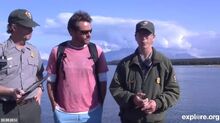 (right mouse click open the link in new window/tab)
YouTube recorded by tronwolverine
some gifs from the day by Juergen Big bear, mobil cam round view, Planes, RR,RM and Tim
RiverWatch underwater swimming bear video by SoCalif
AKJen shared a panorama photo of early morning Lower River in it's blue phase. The luscious full size photo is here.

bshortt-Virginia captured this Brooks River sunset tonight.